All vendor packs with the "sale" tag have been marked down to 50% for a limited time! The sale is a once a year event, come grab the items while the sale lasts.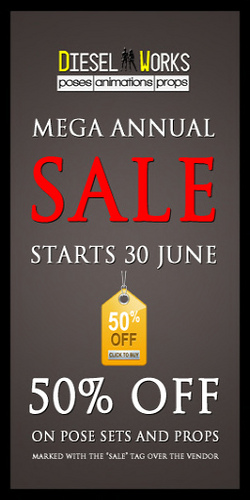 Please keep in mind the following
–> Sale is applicable on all vendors with the 50% off tag.
–> Sale is applicable for sets (poses, props and animations) but NOT for individual poses.
–> If you've purchased any of the sets up for sale in the past 7 days prior to the sale start date, I'll send you another set of your choosing of the same value or less for free. (send me a notecard with purchase date and exact vendor name)
–> Diesel Works group members get a further 10% off. Purchase at the sale price (50%), IM me (Rogan Diesel) the items you've purchased and I'll calculate the refund and send it to you within 48 hours.