Oh dear, only 2 weeks, then the challenge is over. At first I thought, Oh my goodness, 52 weeks!
And now I think, too bad – already over! :o(
I chose a lazy day outfit, yesterday it was too late and I'm still tired, and today while the sun appears, it is bitterly cold,
I just want to lie curled up on the couch and just do nothing.
for more informations … Luna Jubilee's blog !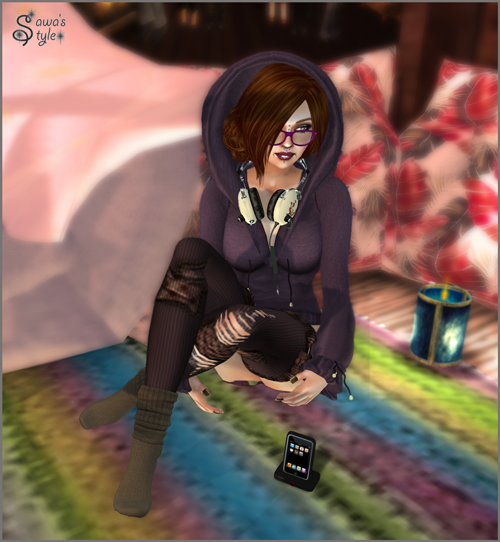 Body
Skin: "Lapine . Tan 1} [Mullberry-FR]" L. Fauna
Hair: "Chalice – chestnut" Truth
Outfit:
Hoodie: "In Da Hood Yo maroon" Veschi
Pants: "Summer Fun Shorts Maroon Retro" DYN
Tights: "Lo Refurbished Socks maroon" Miel
Socks: "Scrunched Socks Brown" Maitreya
Accessoires:
Headphones: "headphone for neck ume" booN
Piercings: "Jam Grey" Acide!
Nails: "Perfect Hand Short" MStyle
iPod: "iPod  Touch black" reBourne
Cushions: "cuddle cushions maui" Khargo
Poseprob:
"Squishy sofa" Glitterati