Today is my first official day off ! 2 weeks of hang out and we celebrate the 40th birthday from hubby, finish.
2 whole weeks doing nothing, I'm looking crazy on it!
For this reason I selected a very very lazy outfit and pic for "khaki". It simply reflects my mood.
for more informations … Luna Jubilee's blog !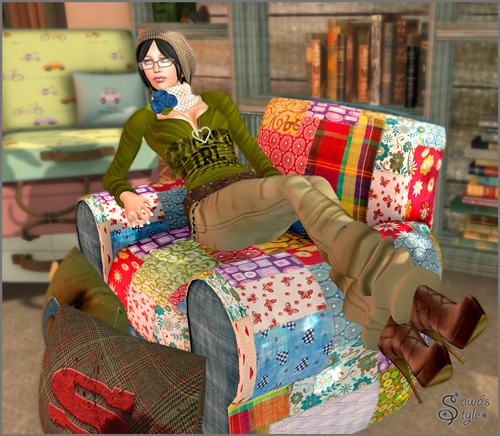 Body
Skin: "Sweet Innocence Black Brows" Mynerva
*Hair: "Later Black 05″ [elikatira]
Outfit:
Shirt: "Mini-One-Piece GG-1 Khaki" ROKI
Pants: "Rockstar khaki" !ZB
Shoes: "Astrid Milk Leather" SLink
Accessoires:
Necklace: "Nessun Dorma Necklace" U&R Dogs
Beanie: "Oversized Beanie Khaki" Hermony
Earrings: "Cae" MOOD
Belt: "Leather and Laced Belt Chocolate" EarthStones
Scarf: "Miss Pembroke Scarf" Gbberish
Glasses: "Kyoot Nerdy Glasses Faun" *Epic* **Albero Gatcha Festival**
Ring: "Parade Pearl Statement Ring" MOOD
Furniture:
Chair: "Armchair Darling Patchwork" Sway's **last SBS item** but other colors are still available :o)
Baggage: "Just so lovabug" CheekyPea
Bookshelf: "Reading Nook" Awesome Blossom