I'm wearing the mesh-boots "Kimberly" from TenFifteen – they're absolutly stunning !
I'm still playing around with these mesh-stuff, hopefully all the users can see and use mesh in the near future,
it's a pity that many users cannot use these features, because the 3rd generation-viewer doesn't run on any PC :o(
Anyway: the boots are availalbe in 9 colors and each pair comes in 4 different sizes !
I'm sure that one of these sizes will fit any avatar,
please try the DEMO in the store before purchasing !
***teleport to TenFifteen mainstore***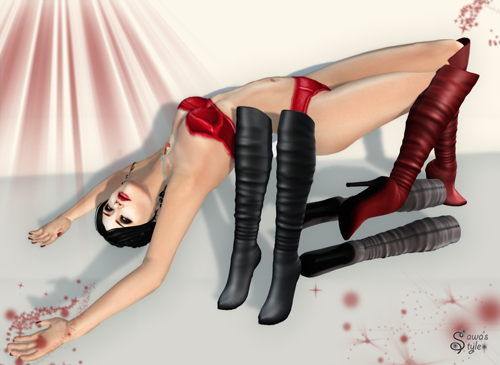 *other credits
skin from YS&YS
hair from Angel Hair
lingerie from Luxuria
earrings from Paper Couture ***Dressing Room***
necklace from MOOD
nails from ::je suis::
pose from Glitterati