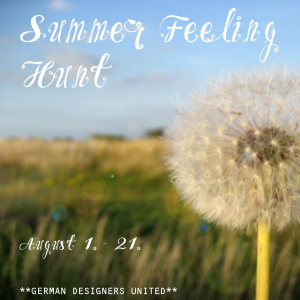 The Summer-Feeling-Hunt starts on monday !
It starts at 1st august and runs to 21st august – 40 german designers have hidden their items – grid wide !
There are such really cute things to hunt and I want to show you a few of them in my next posts!
***all hunt-items are marked bold***
Skin: "Platinum Drow Blue Lips" Mynerva **old hunt item**
Hair: "QPT129 hair black" booN
Top: part of "PY laceline corsage top lilac" Feeel
Ears: "Human Ears Splash Summer" M.A.T. Fantasy (comes with a HUD to change all pieces)
Mouthchain: "Cupe" Catz
Eyes: "Summerfeeling EyeZ" House of EyeZ (2 eyes in the hunt-box !)