http://frontrow.glance-international.com/

Have you ever heard of the new project of GLANCE ?
It's … Front Row! Everyone wants to sit in the front row, right?
Some official information about the event:
Who is in the Front Row and what are they wearing? Everyone wants to be sitting in the front row of a highly publicized fashion event. By definition, those who sit at the front row are VIPs who appreciate quality and uniqueness of the designs being showcased. They are demanding trend-setters and their outfits and stylings are seen everywhere: fashion blogs, fashion magazines, fashion feeds… You just can't miss their photos. Front row is synonymous with it-designers and high quality creations.
With that theme in mind GLANCE International Agency produces a grid-wide event that is aiming at raising L$ for Relay For Life® through the official registered team #40 GLANCE Runway For Life. It will feature an in-world "tour" involving fifty (50) of SecondLife®'s fashion-forward designers and contributors to the fashion community through clothing, skins, shapes, accessories… in short, every aspect that makes an avatar distinct and "fashionably them".
From April 1st at 12PM SLT to April 30th at 12 PM SLT, the event will take dedicated followers of fashion through a journey of discovery across the grid to fashion locations offering some of the best samples and examples of creative design from high quality, exclusive shops and fashion houses. In short, those elements of design that put an exclusive few in the Front Row.
♥ Join Relay For Life today and help raise funds for this worthy cause! ♥
♥ I'm wearing the two pieces of Nemesis – the pose is from !bent – also a Front Row item ♥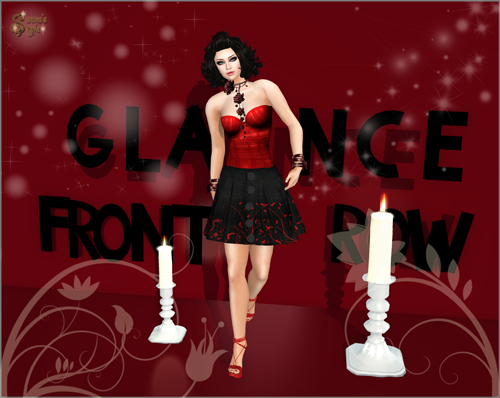 *other credits
hair from Truth
skin from Illusory
jewelry from Mandala
shoes from Maitreya