WOW … already week #16 – amazing !
I really wanted to blog a spring-outfit … However, it has again started to snow here on thursday. I was suddenly no longer in the mood *grmpf*
So it had to serve the warmer things. I love my pashmina shawls from Zaare about everything and my shoes are simply an evergreen, I have ALL colours, simply, beautiful – Tesla !
Next week it's "Electric Lime" – LUNA … are you kidding me !? o.O *lol*
for more informations … Luna Jubilee's blog !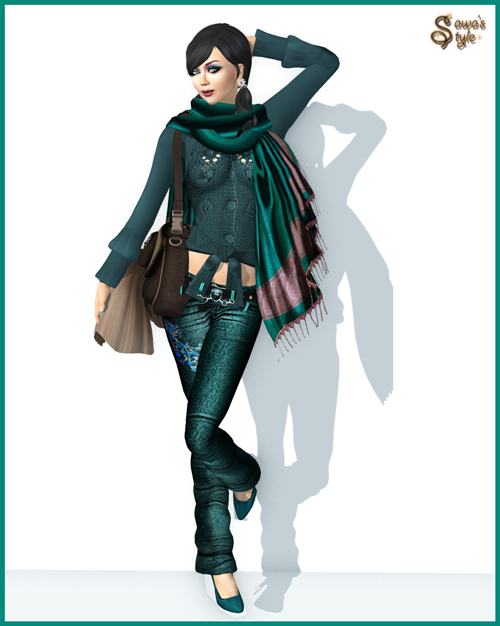 Body
Hair: "Play 2 black 05″ [elikatira] **NEW**
Skin: "Angelina 2 turquoise" Redgrave
Outfit:
Shrug: "Shrugs and Tanks teal" SYSY's
Top: "Charmed Teal" Damiani
Jeans: "Embroidered Jeans" Bliss Couture
Shoes: "Vixen II Classic Teal" Tesla
Accessoires:
Shawl: "pashmina shawl bottle green" Zaara
Earrings: "Aviva Earrings petal" Exodi
Bag: "Birger Bag cutis" LeLutka
Nails: "Starry Sky emerald" Love Soul
Belt: "Belt Black Suede" BAX
Poses:
"Model 256″ Everglow