INAYA released 3 new skins a few days ago:
Naomye is a blond hairbased (or without) slightly freckled woman in her early 30ties. She comes in pale and tan versions.
Tasheka is a dark skinned exotica in her late twenties, whereas for Shyloh we suspect eurasian origins. Both with and without dark hairbase.
Kiamor is a pale, slightly tanned lady, with and without blond hairbase.
<<<TP to INAYA>>>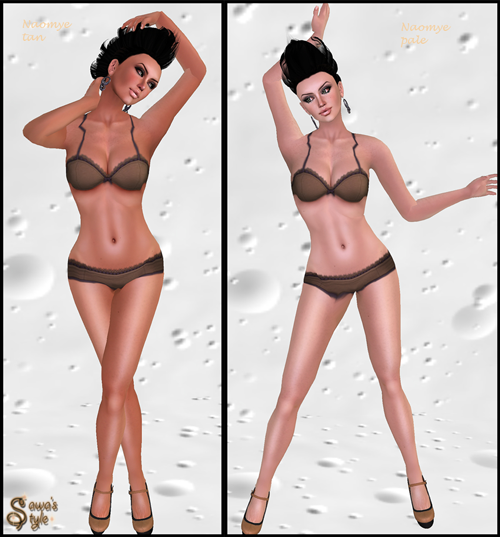 Body
Hair: "Invasion hair attachment-ULTRA-BLACK and BLOND" Baiastice
Outfit:
Lingerie: "Cutieh Undie Pastel Brown" *L.inc* **NEW**
Shoes: "Pow Pumps Tan/Black" [LeLutka]
Accessoires:
Earrings: "EarRing Zebra Agate" .:: ONE GRID ::.
Poses:
all Poses from Diesel Works