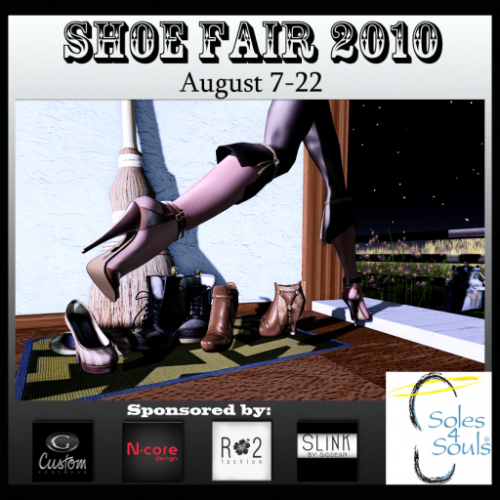 The fair is to benefit Souls4Soles, which you can read about here:
http://www.soles4souls.org/  we hope to raise one million Lindens this year!
The event will run from August 7 – 22, 2010. Over 50 Shoe Designers from across the grid
willl be showcasing their creations (most with new items introduced exclusively at the expo!)
and helping to sponsor and support the benefit.
There will be a couple of Gatcha machines on each sim with special items from Adorkable Poses, Boom, Exodi, Glitterati, Whippet & Buck, Diesel Works, Haven Designs, Stellar and Fri.day!
http://shoefair.wordpress.com/
GOS-Mainstore
Drakke
Lassitude & Ennui
Shoe Fly
Swansong
Anexx
Aoharu
Ingenue
Felicity
Courtisane
Coquette Noir
Lazy Places
Bax Coen
Reel Expression
S@BBiA
R2-Mainstore
Pixel Mode
Sakka's Studio
Decoy
24 Shoo-Shoes
Nova
Zaara
Image Reflections
Cherry by House of London
Akeyo
Mentine
Reek
J's
Kookie
Mayden Couture
N-Core-Mainstore
A-Bomb
Magnifico Exclusive
Estetica
Juicy
Baiastice
Nardcotix
HOC Industries
Tree & Ocean SL
Royal Blue
G-Field
If the Shoe Fits
Orange Creations
Miel
Adjunct
Ruthenium – Sponsored by SLink
SLink-Mainstore
Theosophy
Sole Asylum
She's So Unusual
Heart & Sole
Periquita
Sentou Yousei (Battle Fairy)
Kalnins
Hoorenbeek
Surf Co.
Eshi Otawara
Shiny Things
Haven Designs
Mz. Shoes