Ok, actually I do not write a lot in my blog, except credits and some items that are on my heart.
… but hese shoes here, without words. Gos has surpassed himself and will be immediately adored by every woman. Gos freeing us from evil huds who costs us hours to match the skin-color … I was so frustrated everytime i bought shoes and couldn't match the skintone perfectly.
Enough of words, more details you can see here on Berry's blog, she has worked wonderfully and Elysium Eilde has crafted a great video :)
These shoes will flood the feeds soon, but … outstanding creations have to !
TY Gos, you Made My Day *lol*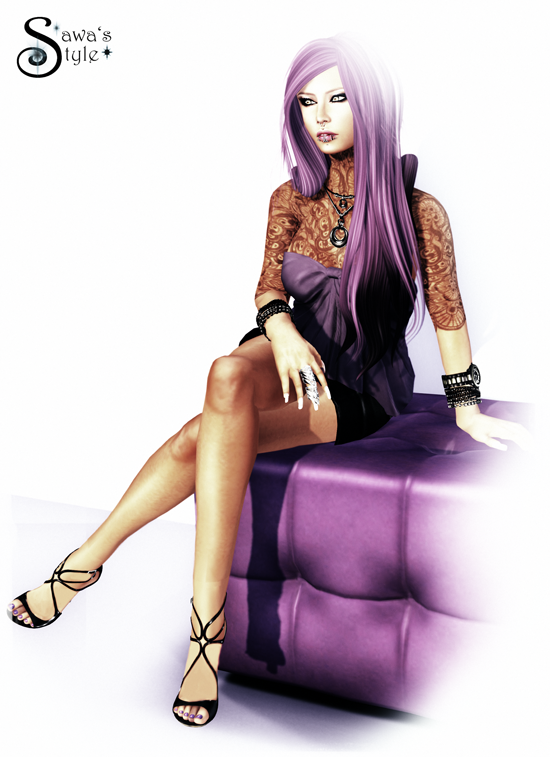 Body
Hair: "Free Hair Lavender Tips.o7″ (red)Mint **Freebie**MESH**
Skin: "Kumi Hazel Smokey" Pink Fuel
Outfit:
Top: "Mignon Top Plum" Maitreya **NEW**MESH**
Skirt: "Dark Leather Black" Maitreya **NEW**MESH**
Shoes: "Grace Sandals Black Patent" Gos Boutique **NEW**MESH**
Accessoires:
Tattoo: "Kismet" Little Pricks
Bracelet & Watch: "SITENNOAH_black" Mandala **MESH**
Necklace & Earrings: "Automatic silver" Amorous
Ears: "Simple Ears Hutuu" Mandala **NEW**MESH**
Nails: "lntimate French Series [03]" Synthetique
Piercing: "Symmetry" Hebenon Vial **MESH**

Poseprob:
"Pouffe – Small – Plum" [Gos & oOo]