Sway Dench, owner & creator of Sway's, has done an amazing work. This cute set of table, stools, chairs and even cuter accessoires is available in 5 colors (yellow, red, pink, blue and green) or even in a colored set, it's like a fatpack and comes with all items in all colors.
The chair has 13 animations and 4 poses, the stool has 5 animations and 5 poses. The upsidedown stool has no pose, but it's absolutly decorative, isn't it ?
Additionally the Teacup Lamp (shown in the back above the table), a really cute Teacup Chandeler AND the Teacup Candle (shown at the table) are also available in 5 colors. The Teacup Candle is the newest gatcha item.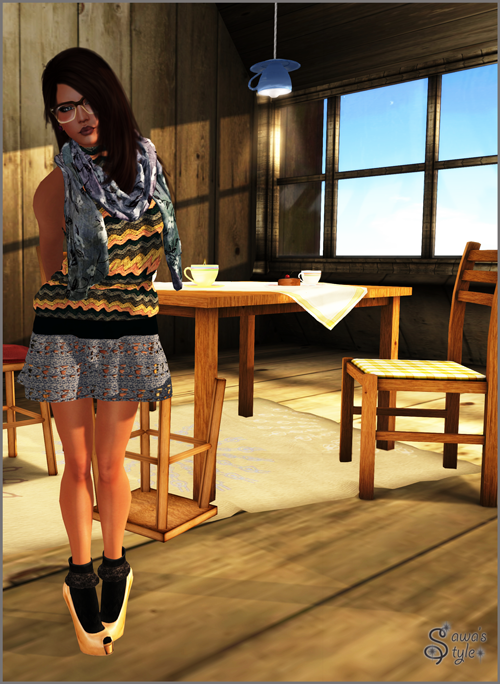 Body
Hair: "Olivia Roots Cocoa" CaTwA
Skin: "Janine Sunburned" [Iren]
Outfit:
Dress: "Crochet Dress Gray" [Iren] **MESH**
Shoes: "Brera Pumps Cognac" YS&YS
Accessoires:
Scarf: "Watercolor Scarf – Tulip" (AMD)
Glasses: "quinton glasses (amber)" ISON
Pose:
"cutie_10″ E.inK